First of all, "Magic Chicken" is just something I picked up. It has no meaning whatsoever. Now, on to the truck.


I bought the truck new back on May 31, 2001. It is my first truck (I was always a car guy), and now that I've had it for a few years, I can't imagine owning anything other than a truck again. The gas mileage does suck, but it's the price you've got to pay I guess. I first started doing performance mods around March of 2004 with a 2001 Corvette Z06 cam (204/211 .525/.525). Don't think it alone did much for me.
A couple of months later I installed a basic NOS "150 shot" wet kit. That put me close to 390 rwhp with just over 480 rwtq. Quickest ET with this kit and Nitto drag radials was a 13.56 @ 102.
Next came a small torque converter (2800), some Mickey Thompson ET Streets and a Nitrous Express Maximizer progressive nitrous controller and Shark nozzle. With these new mods I was able to get my ET down to 13.37 @ 101.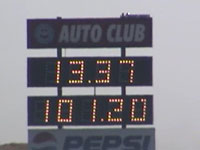 I finally wised up and upgraded my nitrous and fuel solenoids from NOS Super Powershot noids to big Nitrous Express Pro-Power noids. Just upgrading the solenoids alone got me down to a 13.10 on the same 150 shot, turns out the NOS solenoid was maxed out and couldn't flow the full 150 shot.
After running the 13.10 on the new noids, I decided to try a 175 shot to see what happens. That got me down to a 12.85 @ 104.9 (with a 1.77 best 60'!).
I was extremely happy to finally be in the 12's!
Turns out though, I had the nitrous cutoff set to 6100 in the Maximizer and I held the 2-3 shift too long so the Maximizer reset and ramped my nitrous again (60-100% in 2 seconds). So even without full power for the whole run I was able to get into the 12's.
Next mod was a Biondo line lock. Let me tell you, it makes burnouts 1,000,000 times easier and much more consistent. It quickly became one of my favorite mods, no more wasting nitrous on burnouts! I have a before and after video in the video section, the difference is amazing.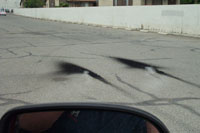 Next time out to the track was on 4/15/2005. This trip netted me a new best ET of 12.74 @ 105. Had the Maximizer working right and a really good burnout, but I was having a traction problem. Turns out the ET Streets don't like big, long smokey burnouts too much. My best 60' for this trip was a 1.82.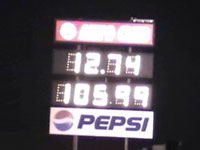 Mods on the horizon are a new 408 with an Eagle crankshaft, Callies new CompStar H-Beam connecting rods, Diamond 11:1 compression nitrous pistons, Air Flow Research 225cc cylinder heads with Harland Sharp roller rocker arms, a FAST 90mm intake manifold and also a FAST 90mm throttle body.


Mods on my wish list (feel free to donate), Nitrous Express direct port nitrous system, Air Ride's new 4 link sport suspension setup, and since this is my wish list, I might as well throw in a turbocharger or a supercharger. Oh yeah, I need some new wheels and tires too.